Good Morning Fellow Stampers! 
Happy Monday --- and happy last day of July!  WOW!  Hard to believe isn't it?  This month flew by for me; how about you?  And I'm flying into August at a million miles an hour.  So much going on, so little time!!  LOL
I'm super excited as all the demonstrators saw the new Holiday Occasions catalog last week for the first time; and our pre-order period begins tomorrow!  Oh My!!  We have a beautiful Fall and holiday season ahead, let me tell ya'!!  You are going to absolutely LOVE everything about this new catalog.  But I digress . . . too soon!!  LOL
Today to round our Christmas In July series, we're going to play with a couple of pretty little tags (or bookmarks as I often see them as) . . .  Let's play with our Mix-It Up Monday fun!!
Tags can be a lot of fun.  They can be really ornate with all sort of stuff on them; or they can be just really simple and quick.
A tag can be as much of a collector as the cards you give; it's all up to you and how much you want to put into them.
Today's tags are somewhere in the middle of those two extremes.  Enough details to make them really special; but not so over the top as to take forever to create.
I made one more "antiqued" and vintage; and the other fresher and a touch more simple in design.
Let's take a closer look 😉
Both tags are cut from Very Vanilla cardstock - 2" x 4-1/2" - and topped off with the easy peasy Scalloped Tag Topper Punch.  I really adore that punch!!
This tag was stamped with the Sheet Music background stamp in Smoky Slate, and then sponged all over with Soft Suede to give a vintaged antiqued look.
I added the sentiment from the Peace this Christmas stamp set stamped in Craft Whisper White ink; then embossed that again with White embossing powder.
All the images are from the same stamp set, inked in Old Olive and Cherry Cobbler.
Then I added some Inka Gold (using a sponge dauber - and "sponging off" some of the excess first) in an Old Gold coloring, all around the edges - kind of like "gilding".  It is so pretty.
I tried to catch some of the shimmer of the gilding in this photo - but it is unfortunately really hard to do.
It is gorgeous in person -- and a truly pretty vintage tag.
This tag, as I indicated earlier, is a "fresher" look.
I chose our new Lemon Lime Twist and Berry Burst color combinations - and just really love it.  It feels so bright!
This sentiment is from the Oh What Fun stamp set; and all the fun holly is from the Holly Berry Happiness stamp set.
I also used the Holly Berry Builder Punch to created fun little holly bunches to pop up on the front; and added a few Glimmer Enamel Dots for some added sparkle.
Both tags use some of our fun new luscious ribbon - I really love the new crinkled seam binding.  It is so soft!!
I hope you had fun today!  And that you feel a little bit inspired.  It feels early to be thinking about all this; but what if I told you it as only 147 days until Christmas?  Eeeeeek!!!  That scared me a little bit!!  It will be here before you know it!!
And speaking of it being over before you know it!!!  Today is the very last day to earn those Bonus Days coupons -- $5 for every $50 you spend.  You are going to want those coupons to order the fabulous Carols of Christmas starting tomorrow.  So get those orders in before midnight tonight!!!  Here is a reminder of the details:
BONUS DAYS!  EARN IN JULY.  REDEEM IN AUGUST!  ENDS JULY 31!
For every $50 (on a single order, price before shipping and tax) you spend between July 1-31,  you'll earn a $5.00 Bonus Days coupon that you can redeem between August 1 – 31, 2017.
EARNING (JULY 1-31)  IMPORTANT DETAILS!
Keep Your Codes!  Save both the email containing your Bonus Days coupon codes AND write down the coupon codes in a safe place. Codes cannot be re-sent if the email is lost, and lost codes cannot be recovered.
Requires Email!  An email address is required to participate; bonus Days coupon codes can only be delivered via email.
No Limit!  There is no limit to the number of coupons you can receive per order or throughout the duration of the promotion.
REDEEMING (AUGUST 1-31)  IMPORTANT DETAILS!
No Limit!  There is no limit on the number of coupons participants can use on an order during redemption.
What Will You Use Your Coupon Codes For?  Bonus Days coupon codes can be redeemed for any product, excluding Starter Kits and Paper Pumpkin month to month subscriptions. New prepaid Paper Pumpkin codes can be discounted with Bonus Days coupons.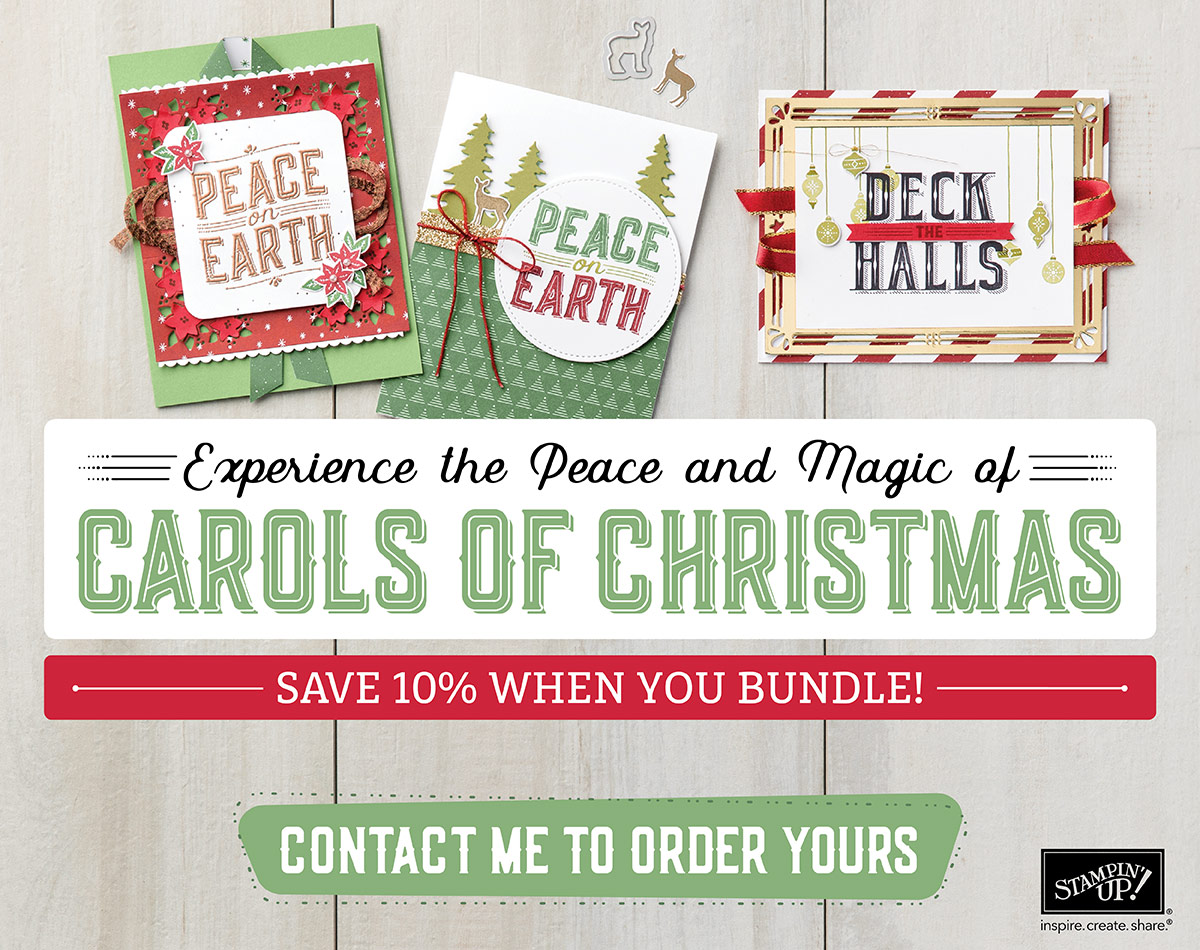 PRE-ORDER THE CAROLS OF CHRISTMAS BUNDLE!
 AUGUST 1-31 ONLY!
You will be able to pre-order the Carols of Christmas product bundle (or the stamps and dies separately) between August 1 and 31.   Use your July Bonus Days coupons if you like (or on any product order). 

CAROLS OF CHRISTMAS IMPORTANT DETAILS!  
Early purchase available Aug. 1 – 31!

All exclusive items associated with this promotion will be available August 1 – August 31.

There are no limits; you and your customers can purchase as many items as you'd like.

Bundle and individual items will be available in the 2017 holiday catalog.

Download and print flyer

here

.
Today is also the very last chance to take advantage of the incredible July deal to join Stampin' Up!
I would adore having YOU as a Paper Pup and a part of our fun little community.
You get so many perks for being a part of Stampin' Up!, including our Pre-Order period that starts tomorrow for the new Holiday Occasions Catalog.
Don't miss out -- join me today.  You can get more details Here.
Contact me with questions - I'm always here for YOU!!
See you tomorrow as we kick of August!!  And all the fun coming our way!
Until Next Time . . .
Save
Save